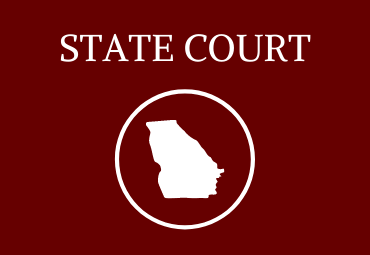 STATE COURT
A 1970 legislative act established Georgia's state court system by designating certain countywide courts as courts of limited jurisdiction. State courts exercise jurisdiction over all misdemeanor violations, including traffic cases, and all civil actions, regardless of the amount claimed, unless the superior court has exclusive jurisdiction (e.g., divorce, title to land, child custody, adoption, and legitimization).
State courts are authorized by statute to hold hearings regarding applications for and issuance of search and arrest warrants and to hold preliminary hearings. These courts may also punish contempt by imposing a fine and/or a jail sentence. By constitutional provision, the state courts have the authority to review lower court decisions, if the power is provided by statute.
State court judges may practice part-time, except in their own courts. They are elected to four-year terms in non-partisan, countywide elections. Candidates must be 25 years old, have practiced law for at least five years, and have lived in the county for at least three years. State court judges can serve as superior court judges upon appointment by the chief judge of the superior court.
When required, jury trials may be held for civil and criminal matters. By law, six-person jury panels are provided for in state court.